1. YOU CONTROL COSTS
Looking for way to control your IT costs? Don't worry, we've got you covered…
Many small-to-medium sized businesses in West Michigan haven't lived their best life in the past year, but we're here to help make that change. We exist to show and prove to you how managing your IT costs is actually A LOT EASIER than you think: hire an IT Managed Service Provider.
Here's our point — we offer customized IT solutions based on your perceived value. You may ask yourself, "what does that mean?!" It's not as subjective as you think – it's purely based on crafting a plan that suits your needs. Managed IT Service Providers have an extreme impact on ROI for your business!
The best part? A Managed IT Service Provider allows your company to have a low cost solution for a dedicated virtual IT department. We are with you every step of the way and are on call 24/7. By customizing an IT solution that fits your needs, we expand the definition of IT costs. Rolling IT needs into an ongoing predictable monthly payment allows IT to become an operational expense versus have unpredictable capital expenditures. Put simply, Managed Services allows for much easier budgeting and predicted expenses. You get enterprise-level knowledge and service for small-to-medium-sized business costs.
2. YOU GET EXCLUSIVE ACCESS TO EXPERIENCED, CERTIFIED IT PROFESSIONALS
There's one common mistake we see when business owners request their internal teams to solve larger IT issues. They lose a ton of time.
We know how technology works, and we've created solutions to ensure that you (and our clients) have no delays during business hours.
This allows your team to work on things that'll keep you moving forward each and every day – not worrying about larger issues that may be out of your control.
With a Managed IT Service Provider, you have access to a trained group of IT experts with qualifications, certifications, and experience. You are guaranteed high level IT admins with specific skillsets for whatever needs you have. Technology has become more demanding and it's hard to keep pace. Let us help you pave your path forward.
See what our clients are saying:
"
ICS has been invaluable to our business. Anytime we have an issue, they are always there to help us resolve it in a timely manner. Carol is knowledgeable and so very easy to work with.
"
– Brandon Baker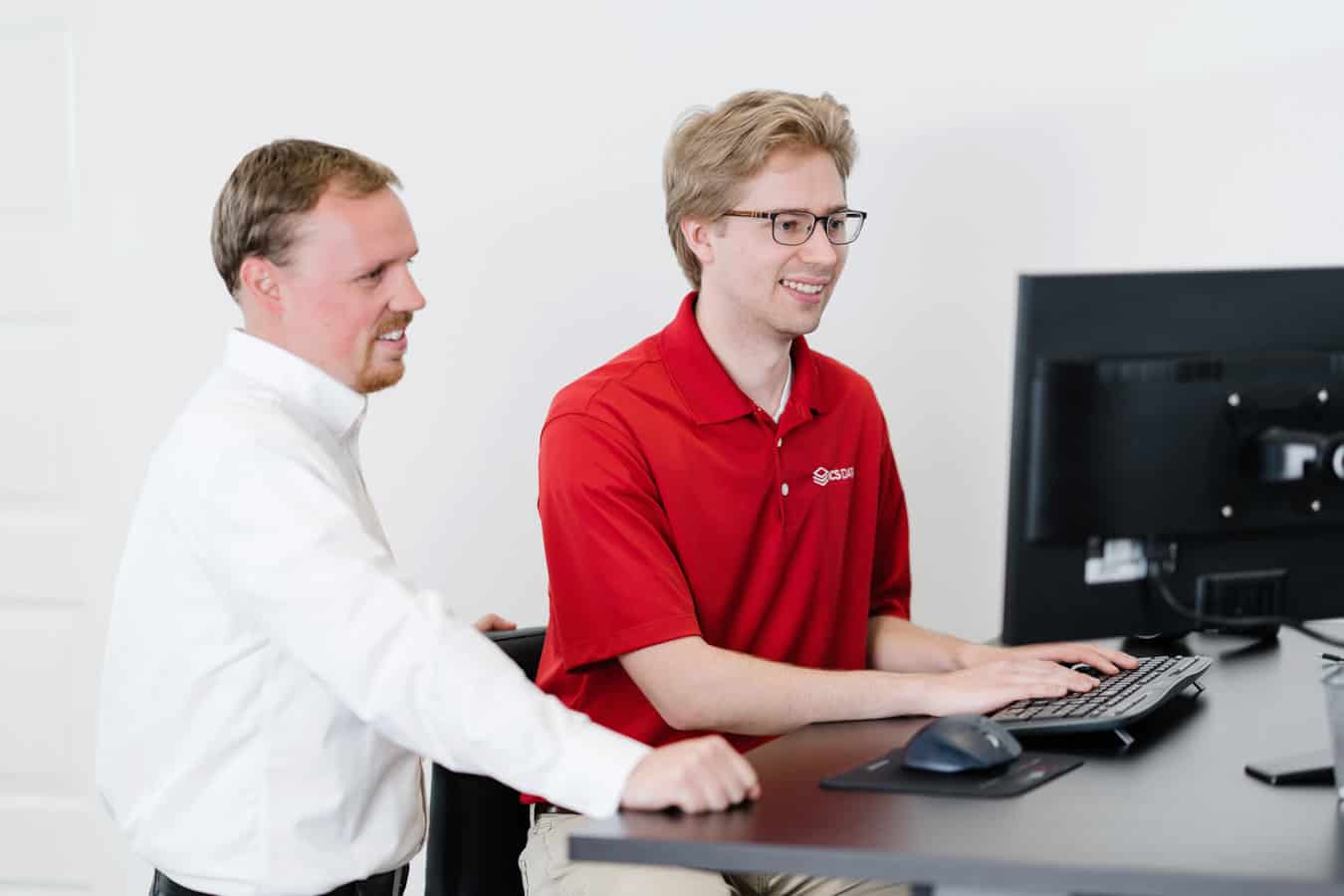 3. YOU'RE ABLE TO FOCUS ON YOUR BUSINESS
IT is definitely interesting, but if you can't show ROI by ensuring that your systems and processes consistently work, then it's more of a hassle and less of a strategic plan to be profitable.
As mentioned above, freeing up your staffs time is huge – it's the purpose of focusing on your business. We allow you to do just that. We also allow you to free up your in-house employees and let them focus on the core of your business, not the IT problems. Being a business owner, you already feel the stress and weight of the day-to-day responsibilities, so why let another department add to that?
We take care of the ongoing management and day-to-day maintenance and free-up your in-house experts time to work on processes and more demanding projects.
4. WE OFFER PROACTIVE SOLUTIONS AND HELP YOU KEEP PACE
Successful businesses do a lot of things right, but in the end, it comes down to a couple things that they do well: they're proactive and communicate.
How do we help you keep pace?
We provide you with proactive solutions that keep you up-to-date and continue your path forward to profitability. These solutions monitor and manage your IT to catch problems before they escalate into serious issues.
Proactive monitoring and management combined with our professional service will minimize your IT downtime and risk.
Downtime can be catastrophic to a company financially. In serious situations, a company can be down for days if not weeks if no plan is in place. We can help you keep pace with the ongoing demands of technology and help you implement new technology more quickly.
5. WE HELP YOU REDUCE RISK
All in all, managed security services can help fill your organization's security gaps.
For example, they help improve your endpoint security and implement tools to detect threats outside of and within your network. Managed services, with cybersecurity rolled in, means your infrastructure has constant monitoring, management, and updates that are critical to reducing your risk of attacks, breaches, etc.
IN CONCLUSION
Technology is unpredictable. We're the helper, role keeper, and guide. Shoot us a message today – we'd love to help YOU. Contact us!